LOWER OPERATING COSTS BY 67% WITH SANDPIPER S30 AODD PUMP
The SANDPIPER 3″ S30 Evolution Metallic AODD Pump is the highest-performing and most efficient AODD pump in its class.
This versatile pump is equipped to handle abrasive fluids and suspended solids. With class-leading max flow rate and the lowest air consumption available, the performance of this 3″ AODD pump is unsurpassed.
The durable, bolted construction of the S30 AODD pump is superior to the clamp-band construction pump, providing excellent leak-free performance. Material of construction options include: aluminum, cast iron and stainless steel with elastomer TPE (thermoplastic elastomers) and PTFE options in diaphragms and check valves.
MORE FLOW, LESS AIR WITH FEWER PUMPS
Air consumption: The S30 requires up to 56% less air to operate, reducing the load on your compressed air system and lowering operating costs.
Air economy: SANDPIPER's metallic standard-duty pumps provide up to 2.5 times more gallons out for every cubic foot of air supplied.
Annual savings: SANDPIPER'S S30 metallic standard-duty pumps can save you up to $3,543 in annual operating costs.
S30 FEATURES
Serviceability: The air distribution system (ADS) is one of the most frequently serviced parts of any AODD pump. Only SANDPIPER's ESADS+ feature allows access to the complete ADS without removing the pump from service. Repair or clean in five minutes (versus 55 minutes for competitors).
Simplicity: SANDPIPER'S original ADS is fully interchangeable, repairable and inline-serviceable. Other manufacturers frequently change ADS designs, creating issues with interchangeability, obsolete inventory and increased cost of ownership.
CHEMICAL COMPATIBILITY GUIDE
To determine chemical compatibility with this pump, please refer to our Chemical Compatibility Guide.
WHAT IS EVOLUTION-OPTIMIZED PERFORMANCE?
These pumps have undergone an engineering EVOLUTION, leveraging trusted and proven product designs to improve their performance through advanced engineering methods. Optimize performance without sacrificing proven reliability.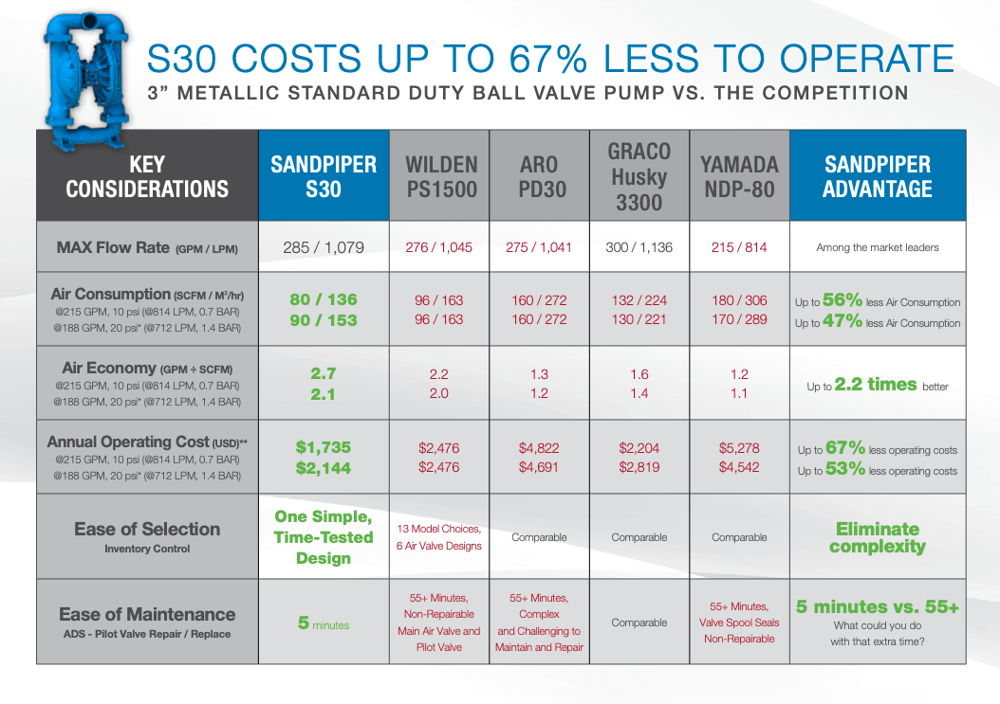 SPECIFICATIONS
PERFORMANCE